Lamborghini Huracan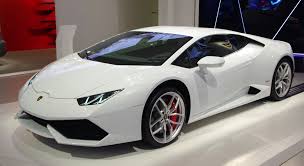 How much money is a Lambo Huracan?
The Lamborghini Huracan is available as a convertible and a coupe. The 2019 Huracan starts at $203,674 (MSRP), with a destination charge of $3,695. It gets EPA-estimated 15 MPG combined.
Is It A Super Car?
The 2019 Lamborghini Huracan is a special kind of machine that gets parked in a venture capitalist's garage and posted on a dreamer's wall. After all, anything that bears the legendary Lamborghini logo is instantly identified as super car royalty.
How Fast Is the Car?
Lamborghini claims the car will accelerate from 0–100 km/h (0–62 mph) in 3.4 seconds and 0–200 km/h (0–124 mph) in 10.1 seconds. The top speed is claimed to be as high as 320 km/h (199 mph).
---
The Lamborghini Huracan is related to engineering because it is considered a luxury with a completely different design then other cars. The new design had to be engineered in a completely different fashion to support the speed of the car as well.