2021 Aston Martin DB11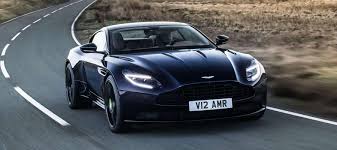 The 2021 Aston Martin DB11 is a luxurious car with breathtaking visuals and extreme performance. The Aston Martin comes in 3 types, the V8, Volante, and the AMR. The V8 and the Volante have the same specifications but the Volante is a convertible. The top speed of the V8 and Volante is 187 mph with 503 horsepower and a 0-60 of 3.6 seconds. The AMR boasts a top speed of 208, 630 horsepower, and a 0-60 of 3.4 seconds. Even though the models have different engines and parts, they all are amazing and fast.
The Aston Martin DB11 starts at $208,425 which is a pretty hefty price tag. The Volante comes in at $223,725, and the AMR with the most expensive tag of them all comes in at at $248,725. Although the price is high, you're getting everything you paid for.
The DB11 offers two different engine choices: a twin-turbocharged 4.0-liter V-8 or a twin-turbo 5.2-liter V-12. The V8 and the Volante hold this turbocharged 4.0-liter engine while the AMR contains the monstrous twin-turbo 5.2-lier V-12.
The interior is one of the most important things in a car, and the DB11 nails it. The seats are made of leather and exotic materials. They all have heated seats, adjustable front seats, and passive entry. You can pay more to get a heated steering wheel and ventilated front seats. If you're looking for a luxury and fast car this is right for you.