LED digital sand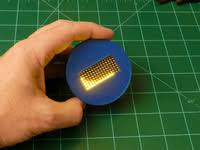 This is an LED device that uses physics and a digital screen to simulate gravity. The little pixels fall up and down depending on what way you tilt or spin the screen. It works using LED lights.
here's a link to the project:
https://learn.adafruit.com/animated-led-sand
This relates to engineering because you use lots of parts that need to be welded, carved and 3D printed. Also you have to design and it make it with engineering tools.
heres a cool video: