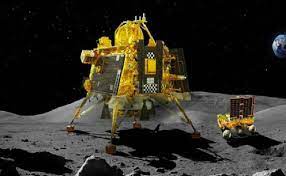 Chandrayaan 3 is Indian lunar mission aimed for exploring the further mysteries of the moon. Building upon the success of its predecessors, Chandrayaan 1 and Chandrayaan 2, this mission represents India's continued efforts to advance its space exploration capabilities competing against companies such as NASA and ROSCOSMOS.
The primary objective of Chandrayaan 3 is to land a rover on the lunar surface and conduct scientific experiments to gather valuable data about the moon's geology, mineralogy, and atmosphere. The mission will also focus on studying the presence of water molecules and the possibility of future human habitation on the moon.
The Chandrayaan 3 mission involved the objective of reaching the south-side of the moon and exploring the rocks. It will consist of an orbiter, a lander, and a rover, all working together to achieve its goal of further space exploration. The orbiter will remain in orbit around the moon, providing communication support and capturing high-resolution images of the moon. The lander will attempt a landing near the moon's south pole, where water/ice has been detected. The rover, equipped with advanced space exploration technology, collecting samples, and analyzing the moons environment.
The success of Chandrayaan 3 will not only contribute to our understanding of the moon but also pave the way for future space exploration missions for the whole world. It will enhance India's technological capabilities and establish its presence as a major player in the global space exploration community. Additionally, the mission will provide valuable opportunities for collaboration with other space agencies and scientific institutions around the world such as NASA and ROSCOSMOS.
In conclusion, Chandrayaan 3 is a testament to India's commitment to space exploration and amiboutine to compete against other space agencies. With its ambitious goals and advanced technology, the mission holds the potential to uncover new knowledge about the moon and reach new levels of knowledge of space exploration.
"Related Stories"- 
https://www.nytimes.com/2023/08/23/science/chandrayaan-3-india-moon-landing.html,
https://www.scientificamerican.com/article/chandrayaan-3-makes-historic-touchdown-on-the-moon/
https://www.theguardian.com/science/2023/aug/23/india-chandrayaan-3-moon-landing-mission,
https://www.cnbc.com/2023/08/23/india-chandrayaan-3-moon-landing-came-at-small-cost.html,
https://www.nature.com/articles/d41586-023-02852-7
"Take Action"-