The Symphony Of The Seas; One Of The Largest Cruise In The World
The Symphony of The Seas is one of the largest cruises in the world, and one of the coolest. This huge boat has a length of 1,184′, which is giant. The inside has to be the best part of this cruise, There are so many different activities to choose from, you can ice skate, mini golf, and so much more. They have so many dining options and good food to choose from.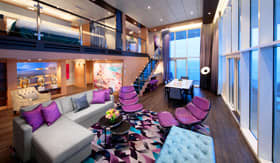 The rooms are also great, and the royal suite is luxurious, although it will cost extra. The royal suite comes with a sun deck, private lounge, and a coastal kitchen restaurant offering fresh cuisine, it also includes complimentary beverages and fast, free internet.
Onboard activities
The activities on this cruise are endless, they even have a 43-foot rock climbing wall. You can play basketball with friends and family, as I said earlier you can go ice skating and mini golfing. They have 10 bars to choose from, a pool, an arcade, a library, and even dance classes. The most challenging activity is the Ultimate Abyss, the Ultimate Abyss is the world's tallest slide 100 feet in the air, the slide goes 9 miles per hour twisting and turning in a serpent-like path.
All in all, this is a great cruise for family or friends, with all the activities and fun to have. I would definitely recommend it.
RELATED STORIES:
https://www.cruisecritic.com/reviews/review.cfm?ShipID=984
https://en.wikipedia.org/wiki/Symphony_of_the_Seas
https://www.cleancruising.com.au/ship/symphony-of-the-seas
https://www.royalcaribbeanblog.com/symphony-of-the-seas
https://www.cruisebe.com/symphony-of-the-seas
TAKE ACTION:
Book the Symphony of the Seas
https://www.royalcaribbean.com/cruise-ships/symphony-of-the-seas