The Dilbar Super Yacht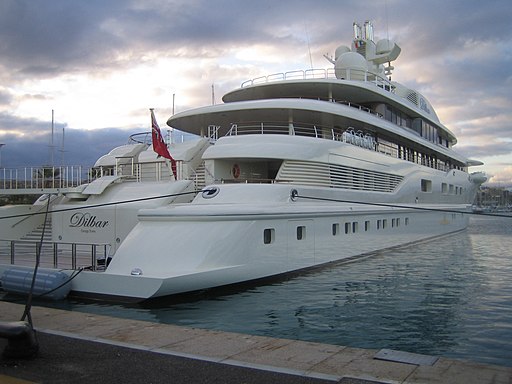 The Dilbar super yacht was launched on November 14, 2015, and was delivered on 2016 at the shipyard of  German Lürssen.
It's said that the Dilbar was one of the most difficult and complex yachts to be built in terms of technology and dimensions.
The yacht's interior design was designed by the Winch design team and the exterior was designed by Espen Øino international.
Due to the fact that the yacht is 15,917 tons with 156 meters (511 feet) and 6 meters (20 feet), it's one of the largest yachts in the world by gross tonnage.
Some of the features in this huge yacht are a 25 meter indoor swimming pool that has 180 m³ of water, 2 helipads, and 3,800 square meters of living space.
With all of the features this yacht has, it's estimated to cost between 800 million to 1 billion US dollars.
RELATED STORIES:
https://www.lurssen.com/en/new-build/yachts/dilbar/
https://www.businessinsider.com/most-expensive-yachts-in-the-world-2017-6