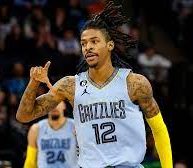 Deciding who the best shooter in the NBA is objective, as many people define "shooting" in basketball differently you can value three pointers, midrange, volume, efficiency etc. Using math and science to choose one basketball player  is very difficult. First let's look at three pointers. Steph Curry is almost undoubtedly the best three point shooter on the planet currently, as not only does he have the most three pointers in NBA history with 3,452+, but he shoots on an efficient clip of 42.8. Curry is the best three point shooter but other great volume three point shooters include Damian Lillard, Buddy Hield, Donovan Mitchell, Klay Thompson, Luka Doncic, Steph Curry , and Jayson Tatum. The most efficient sharpshooters are Joe Harris, Luke Kennard, Seth Curry, Steph Curry, Desmond Bane and Klay Thompson. This wraps up three pointers which is a pretty easy topic to cover.
The mid range shot is slowly dying so only the best of the best still shoot mid range jump shots. DeMar DeRozan is the king of mid range, but it is almost unarguable that Kevin Durant is the best. Kevin Durant not only shoots it a lot but he makes it a lot rising over his defenders when he shoots mid range jump shots. Kawhi Leonard and Chris Paul also live in the midrange but the shot just isn't that relevant in todays game.
Now to the meat and potatoes: True shooting percentage. Most people don't even know what that is. It's where math meets basketball and gives you objectively the best shooter. There's one problem though. The top 25 list is almost exclusively centers when most shots they shoot are close up and don't define shooting. What you look for on a true shooting percentage is the players who are three level scorers meaning (at the rim, midrange, and three pointer). The best three level scorers on the 2023 True Shooting Percentage list last year were Nikola Jokic, Kevin Durant, Austin Reaves, Joel Embiid, Damian Lillard, Stephen Curry, Lauri Markkanen and Kawhi Leonard. 2022 looked similar with interior centers dominating the top 25 but a few outliers. Three pointers are the most important so by definition Stephen Curry is the best three point shooter today.
Related Stories