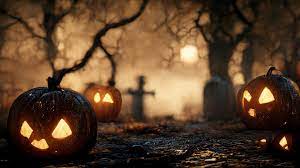 What is Halloween?
Halloween is a holiday celebrated each year on October 31, and Halloween 2023 will occur on Tuesday, October 31. The tradition originated with the ancient Celtic festival of Samhain, when people would light bonfires and wear costumes to ward off evil ghosts. In the eighth century, Pope Gregory III designated November 1 as a time to honor all saints. Soon, All Saints Day incorporated some of the traditions of Samhain. The evening before was known as All Hallows Eve, and later Halloween. Over time, Halloween evolved into a day of activities like trick-or-treating, carving jack-o-lanterns, festive gatherings, donning costumes and eating treats.
Ways to participate
You can participate in Halloween in many different ways, however, trick-or-treating is the most popular one. Kids dress up as whatever they like, usually scary, and go door to door saying "Trick or Treat!" and in return, the people in the house will give you candy.
Here are some costumes you could get online:
Another way you could participate in Halloween is by decorating your house! You could decorate your house by finding scary stuff and placing it all over your home. This creates a scary and fun experience for trick-or-treaters.
Here are some decorations you can buy online:
The main goal of Halloween, now, is to have fun. So you could either follow my tips or not, but whatever you do, have fun!
Related Stories
Take Action