How to get any item with a door in Terraria
This glitch can give you any item, even ones that aren't fully coded.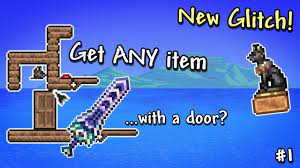 The Philosopher's Stone glitch is a glitch in Terraria 1.4.4 and onwards. It allows you to get any item in the game, including an item called the "Boring Bow."

It requires the head of a "Bast Statue," and half of a campfire. How? It's a long process to set up, much less explain. It also requires any door, and can be very broken. This spreadsheet can help with finding the item you want. https://docs.google.com/spreadsheets/d/1zLsNgfk6ZM8ZgbE_7mnKg5TimjjisQwM3j29g7ga2uE/edit#gid=429850600
Here is a link to a playlist on how to use this glitch, along with others.
https://www.youtube.com/watch?v=RG2pIu4TKXc&list=PLieay8-vUaFh9pWZOO553OhDF6cLNOSAr&index=2