New Anti Skid Technology In Mountain Biking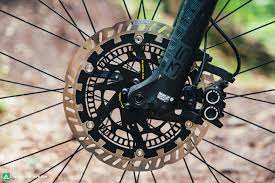 Bosch ABS
Bosch created a new braking system that stops the front wheel on mountain bikes from skidding out. There are multiple important parts to this new technology. The Magura disk brake is in charge of the stopping part, then the Bosch Black Box is placed on the fork leg which holds to computer, and the disk rotor has an extra rotor added to it. All of that is tied up in a neat package of big cable that holds all the wires.
The Bosch ABS system looks at the speed of both the front and the rear wheel. When the front wheel stops spinning the ABS system within milliseconds the breaking force is reduced by the algorithm of the ABS, before the braking force is increased again for the most stopping possible. Bosch claims that because of their new ABS system, riders will get more grip in slippery areas and will reduce the chance of going over the bars.
German motor specialists had made a system similar 5 years ago. Bosch claims that the new ABS system is 77% smaller and 55% lighter than the old iteration. It is said that the ABS box is 277g and the whole system weighs 402g. A pleasant addon is that is analyzes and gives you analytics on your braking on the Kiox 300.
Hill Hold System
There are a couple other features with the Bosch electric bike systems, counting the "Hill Hold" setting. In work with "Walk Assist Mode", which helps you walk your bike up hills, as well as keeping your bike from not rolling back down the hill if you stop. It locks the wheels without requiring the rider to touch the brakes and is activated if the rider adjusts their grip on the handlebars or stops pushing. The bike will either immediately deactivate when the bike is pushed forward once more, initiating "walk assist" mode, or it will remain in "hill hold" mode for ten seconds before deactivating.