The Top 5 Most Expensive Boats
Learn about the top 5 most expensive yachts
Number 5: The Topaz
At $527 Million dollars, the Topaz comes in at number 5. This boat was built for an Abu-Dhabi tycoon in Germany and was launched in 2012. This boat has a large jacuzzi on the main deck, a swimming pool, double helicopter landing pads, a gym, cinema, and a conference room. Imagine how much fun this boat would be! The length of the boat is The yacht, with a length of 147 meters (482 ft) and beam of 21.50 m (70.5 ft), measures 11,589 gross tons.

 Number 4: The Azzam
Costing around $600 million dollars. Lürssen Yachts is the one behind this mega build. This yacht even has its own missile defense system, a bullet proof master suite and tops speeds of 30 knots or 35 mph also making it one of the fastest yachts in the world! This yacht is also owned by the the president of UAE so no wonder why it has all of these thing
Number 3: The Streets of Monaco
We have now reached the $1 BILLION dollar mark with this boat costing exactly $1 billion dollars. The length of this yacht is 509 feet. This yacht when finished will have a go kart track, 3 pools, a MINI submarine, a helipad, seven guest suites, a mini waterfall, and an UNDERWATER restaurant with an underwater view. Imagine how insane it would be to own this yacht! The name of it also says it all with Monaco also known for being the richest country in the world with 30% of this country in millionaires! With also this sleek futuristic design making it look amazing. You can also see these balconies on the right side facing out for amazing views.
2: The Eclipse
The Eclipse costing $1.5 Billion dollars comes in at number 2 not even costing close to number 1 though it is no known the exact . This yacht owned by Russian billionaire Roman Abramovich. This yacht has also has a missile  defense system, missile detection sensors, intruder alarms, and even bullet proof windows in his master bedroom. The Eclipse also has 2 helicopter pads, 2 pools, 24 guest bedrooms, a disco hall, and even its own mini submarine.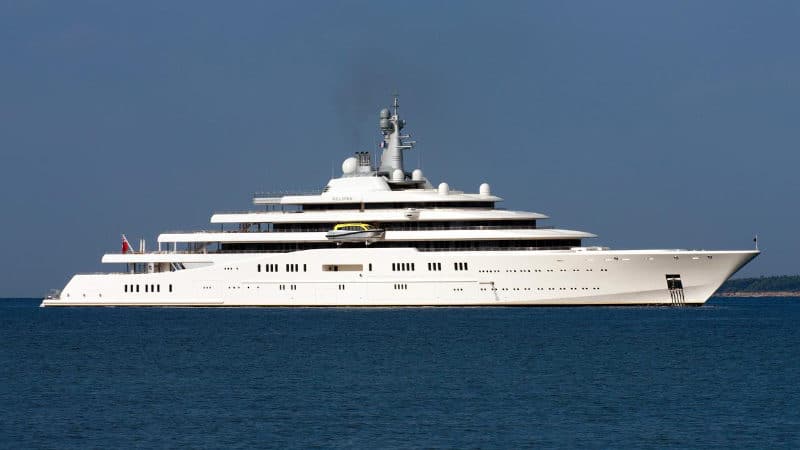 Number 1. The History Supreme
This yacht comes at first by more than a BILLION dollars! Costing about $4.8 billion dollars! Why does this yacht cost so much? Well, this yacht is made of 10,000 kg (11 tons) of solid GOLD and platinum. The owner of this yacht is Malaysia's richest man, Robert Knox. The designer of this boat was Stuart Hughes. This yacht also took 3 years to build! Though this yacht is not big, it's definitely expensive.
A picture of the History Supreme
Related stories
Where I got my information from https://wealthygorilla.com/most-expensive-yachts/
https://www.luxhabitat.ae/the-journal/top-10-most-expensive-yachts-in-the-world/
https://luxuryyachtconcierge.com/worlds-top-10-most-expensive-luxury-yachts-2/