The Levitating Light Bulb That Works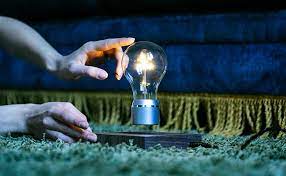 The company "FLYTE" creates products like a levitating ball to a levitating planter. One of FLYTE's products is a levitating light bulb that can light up, and they come in four different types with different bases.
Nikola – Marconi bulb in chrome a with walnut base.
Buckminster – Edison bulb in copper with a walnut base.
Manhattan – Edison bulb in chrome with a walnut base.
Royal – Edison bulb in gold with an oak base.
The product itself has a minimalistic design and only needs a charging port for the base. Once charged, you will be able to put the light bulb on to levitate with the power of magnets, and is provided with a guide so you can set it up easier. After you set up the bulb, it will spin in place and has the option to light up or off with a tap on the base. The light bulb has a lifetime of 50,000 hours! That is around 4,167 days if you use this product 12 hours every day, or 11 years and 151 days. The light bulb is great for desk lights or bedroom lights.