The Biggest Road Interchange In Virginia
Road Interchanges are known throughout the world for connecting one road through another, and letting cars pass each other without getting into accidents. Sometimes, Larger highways meet sometimes, and they can't have a simple traffic light to keep cars flowing. Cars can't stop at a traffic light when they are travelling 70 miles an hour. So, engineers design road interchanges that don't make the car stop. A car can enter and exit a highway without stopping, and doesn't have to wait for other cars, usually. However, some interchanges are larger, more expensive, and better than others, and function much differently than others.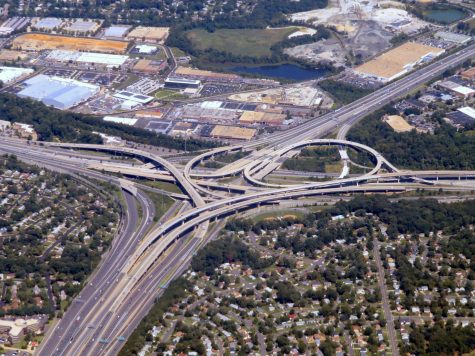 Springfield, Virginia
"The Mixing Bowl" is one of the busiest road interchanges in the United States, serving about 375,000 cars each day. This interchange has undergone many renovations as the highways that are in the intersection are growing, and the interchange needs to accommodate for it. There have been eight phases that the interchange has been under, and each have increased the size of the interchange. Many bridges were being added during each phase, some of which stack over each other 5 times, and many millions of dollars, hundreds of thousands of tons of asphalt. Today, I-495, I-395, and I-95 all intersect with an additional EZ-pass route on I-495. These highways are large, too, as the Capital Beltway has more than 8 lanes, plus the express routes. The other highways approaching that value as well. This leads to "The Mixing Bowl" to be one of the largest and busiest interchanges in the entire United States.
There have been a fair bit of mishaps on the road, as the Springfield Interchange has been ranked among the worst interchanges in the US, however since has been improved. In the mid 1990s, there were many car crashes, and was the biggest site of them on I-95. Luckily, the improvements have made this road much safer to travel on.
RELATED STORIES:
https://www.clarkconstruction.com/our-work/projects/i-95i-495i-395-springfield-interchange-improvements
https://www.washingtonpost.com/wp-srv/local/longterm/traffic/bowl0103.htm