EpiWear Syringe Watch!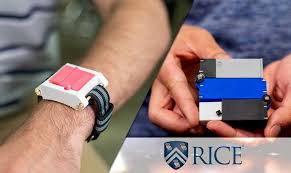 Biomedical major students at Rice University have made a fold-able epinephrine device for those with allergies. This is only a prototype, they say, made by a 3D printer and plastic materials.
The students are very well aware of the safety issues that the watch has, which is why doctors still recommended the EpiPen. The problem that the students were solving was that when someone is in need of their EpiPen, they pull it out of their pocket, but not in time.
If EpiWear is successful in the future, it help so many people in the future. Doctors and engineers could work together and develop different versions of EpiWear to improve technology.
This innovation relates to engineering because it was made by Biomedical Engineers. The students made to make the measurements and created the prototype using a 3D printer.