AMD vs Intel: What Should You Buy?
With the release of AMD's 5000 series processors and Intel's 11th gen "Rocket Lake" processors, there has been a lot of competition between AMD and Intel. This has raised the question: What should you buy?
Intel and AMD have had the same position in the market for years. Intel has always been the more powerful and most popular while AMD was weaker, cheaper, and virtually pointless to buy when Intel was an option. However, this has completely changed since the release of AMD's Ryzen. In this comparison, I will be using AMD's most recent 5000 series CPUs and Intel's latest 11000 series CPUs. AMD has four main CPUs this generation. Going from least to most powerful:
Ryzen 5 5600x

Ryzen 7 5800x

Ryzen 9 5900x

Ryzen 9 5950x
Intel has three main processors. There is a fourth processor, but it doesn't compare with any of AMD's processors. Going from least to most powerful:
Core i5 11600k

Core i7 11700k

Core i9 11900k
There is also a non-k version of those CPUs, but the only difference is that they cannot be overclocked. They are exactly the same other than that. There are two categories that compare AMD and Intel. Hardware and Performance. 
Hardware-wise, AMD is much better. Both the Ryzen 5 and Core i5 have 6 cores and 12 threads, but Intel has a higher base clock of 3.9GHz versus AMD's 3.7GHz base clock.  The Core i7 and Ryzen 7, both have 8 cores and 16 threads. This time, Intel loses in the base clock, with a clock of 3.6GHz, versus Ryzen's 3.8GHz clock. Moving on to the Ryzen 9 and Core i9, this gets more interesting. The Core i9 has two competitors from AMD: The 5900x and the 5950x. The ladder is essentially just a more powerful version of the 5900x. The Ryzen 9 5900x has 12 cores, 24 threads and the Core i9 only has an embarrassing 8 cores, the same as the Core i7. This is made even worse by the insane 16 cores and 32 threads on the 5950x. The Core i9 surprisingly beats the more powerful 5950x in the core clock, with a clock of 3.5GHz versus the 5950x's 3.4GHz, but is beaten by the 5900x with its 3.7GHz clock speed. So clearly, AMD on average has higher base clock speeds with the Ryzen 9 5900x and 5950x having more cores and threads than the i9, so you would think that AMD is already a better choice, but the comparison still isn't over. 
In terms of power consumption, AMD absolutely destroys Intel. The default TDP (power consumption) of the Ryzen 5 is only 65 watts, with it being 105 watts for the other 3 CPUs. This is compared to Intel's 125-watt TDP for each CPU, even the Core i5.
The temperature on the other hand is more of a tie, with Intel's Core i9 being able to reach temperatures of up to 82 degrees Celsius, and that's without overclocking. Similarly, the Ryzen 9 peaks up to around 86 degrees with the Ryzen 9 5950x getting the same temps, again without overclocking. The Core i7 can reach temperatures of up to 81 degrees and the Ryzen 7 goes up to around 80 degrees. The Core i5 can reach up to 76 degrees while the Ryzen 5 goes up to 72 degrees. This seems bad for both Intel and AMD, but the Zen3 architecture that the Ryzen 5000 series is built on is made to handle high temps, making it much more acceptable then it runs so hot. Speaking of architecture, AMD's Zen3 architecture is 7nm, compared to Intel's 14nm. This is what allows Ryzen to consume less power while running much faster.
There are a few features that exist on one platform but not the other, however, that may interest you. On Intel's side, all the Intel processors that I have talked about so far have integrated graphics. AMD on the other hand has a feature called SAM, that you can activate in your BIOS if you have both a Ryzen 5000 series CPU and a Radeon 6000 series GPU in your computer. This feature allows the two to share a memory with each other, giving you a performance boost in games, but not in productivity.
AMD not only outperforms Intel on paper but also in execution. In gaming, Intel leaves a lot to be desired, being sorely beaten by AMD. Here is a chart is done by Tom's Hardware that compares 11th gen to Ryzen 5000, 5000 overclocked, and the previous 10th gen in Red Dead Redemption 2: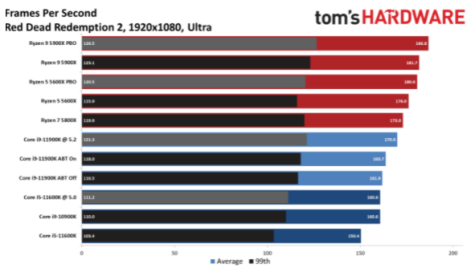 As shown, AMD dominates, with even the Ryzen 5 out-performing the Core i9. Gaming isn't the only thing that matters, however. People also need their computers for productivity, and there is simply no competition here. AMD wins. The chart on the side showcases a comparison in PugetBench for Unreal Engine between 11th gen, 10th gen, and Ryzen 5000: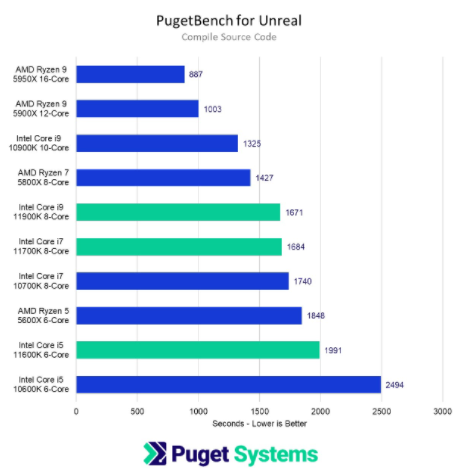 Finally, which one is worth buying? The MSRP (launch) price of each 11th CPU is:
i5 – $229.99

i7 – $349.99

i9 – $499.99
Each equivalent Ryzen CPU is about $50 more expensive, with the Ryzen 9 5950x costing a whopping $800. With only a $50 difference and the insane performance difference, I would say to go AMD all the way, but only at MSRP. The way it stands now, with how little people care about Intel now, most 11th gen processors can be found at their launch price, but 5000 series Ryzen processors are rarely even in stock and even when they are, they are way too overpriced just because of the sheer demand for Ryzen right now. For right now, unless you have lots of money to spend, I would actually say to go with Intel. However, once prices settle down, there would be no reason to go with Intel and I would 100% recommend AMD.