All About Cave of the Winds
Niagara Falls is one of the most iconic landmarks in the east coast of the United States. Located near buffalo, hundred of thousands of gallons of water flow over the falls each second, crashing down from over 170 feet. However, near American and Bridal falls on the American side, you can go on an exciting trip down to a deck known as "Cave of the Winds". However, how was this deck built and can withstand the waterfall just mere feet away?
What is "Cave of the Winds"?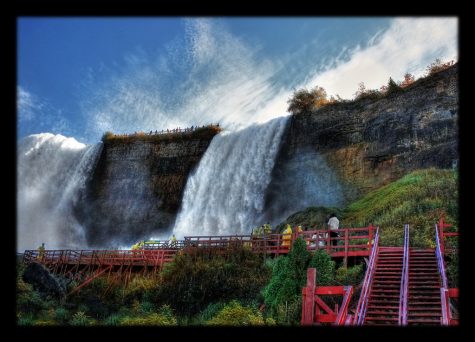 Cave of the Winds is a tourist attraction on the American side of Niagara falls. It is located on Goose Island, which is a park dedicated to Niagara falls. To access it, you need to take an elevator to go down to a pathway that leads to the deck. Moisture from the nearby falls prompts people to wear ponchos to not get wet. The name "Cave of the Winds" came from an overhand rock structure from long ago, in the 1800s, but has since collapsed. The name stuck even though it can be misleading.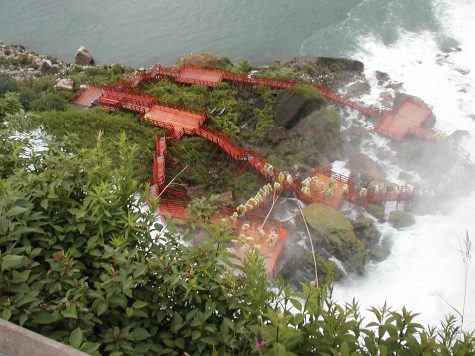 History
The Cave collapsed in the early 1900s, and was fully blown up in 1955 due to risks of erosion that would wane the rock away and might fall on someone unlucky people. It happened already in the past, when in 1857 a rock fell and injured some tourists, and a much worse case in 1920 that killed three people.
Now in present day, the decks are rebuilt each year in mid March and early April as a tradition. The small crew all work together in order to put up the wooden beams on the wet and rocky surfaces. The most challenging decks to build is Hurricane deck, as Bridal Falls comes just mere feet away from the deck. Hurricane deck is one of the most infamous decks as water from the fall pounds on the people standing on the far side of the deck.
Cave of the winds today is a completely safe deck that many families and tourists visit. You are able to view the mighty Horseshoe Falls from under the gorge, and are able to get right up close to American and Bridal falls.
Related Stories:
https://www.niagarafallsstatepark.com/attractions-and-tours/cave-of-the-winds
https://www.niagarafallsinfo.com/niagara-falls-history/niagara-falls-tourism-history/cave-of-the-winds/
http://www.infoniagara.com/attractions/Attractions-Niagara-USA/Cave-of-the-winds.aspx