X board the Ultimate Toy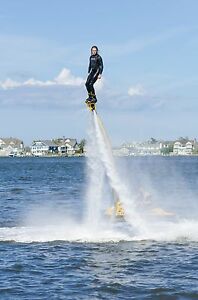 X board is the ultimate toy for any user looking to enjoy a perfect experience of hydro flight. X Board is a hydro-flight device that attaches to the PWC with capacity not less than 120 h/p which gives the X Board propulsion through air and water. The thrust from the PWC is routed through a long hose up to the X Board where a rider can divert and control that thrust to create any type of movement the user desires. X Board IV is a perfect combination of a modern design and revolutionary technical innovations in a hydro-flight sport such as independent nozzles. Two side nozzles are able to move separately to control movement of each foot individually. This feature allows the board to rotate on its axis, gives more control and greater maneuverability. This board is capable to fulfill thrill enthusiasts as well as professional riders. But these experiences come at a hefty price, the water board comes to a whopping $1750. The Flydive X-Board combines form and function at a price point that makes it an ideal choice for anyone wanting to experience the thrill of hydro flight. 
This product is a feat of engineering. This product took many many years of engineering to create, and followed the engineering process. It was planned, prototyped, tested, and then over and over again.
Related stories:
https://www.aquafly.com/hydro-gear/flydive-x-board-flight-deck