The Backflipping Robot Cheetah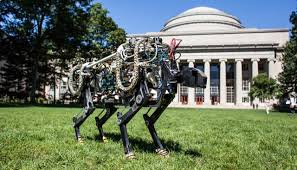 MIT has a new robot, designed and constructed by Ben Katz, Jared Di Carlo, and Sangbae Kim. This little cheetah can go up to 2.45 meters per second. It has the agility of a gymnast, is multi-terrain, and will even back-flip. When the cheetah falls, it can flip over and keep going. This robot is an engineering marvel and gives a bright future to those who designed it.
https://www.engineering.com/DesignerEdge/DesignerEdgeArticles/ArticleID/18695/Introducing-the-Backflipping-Mini-Cheetah-Robot.aspxh
This relates to engineering because the design for the cheetah had to be thought out, in order for it to flip and travel at fast speeds.