The Robot That Mows Your Lawn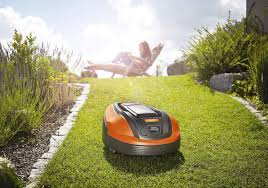 This is a very interesting and very useful invention especially, when you have a lawn you have to mow  every once in while. This Robot Lawn Mower can do the job for you. When you are not wanting to be out in the cold or under the burning sun. Instead you can  relax and watch this robot, do it for you. This is a very smart and safe robot, you don't have to worry about injuries because, once this robot gets picked up its will automatically turn off and stop working. It will also leave the lawn perfectly cut and even, it has a system were it knows and checks if everything is evenly cut. Also, allowing it to avoid objects that are in its way. When its done it returns to its base to charge and once its there it locks itself so don't worry about it getting stolen because it has an alarm that will go off. You can unlock or lock it too. If its raining it will go to its base until the weather is clear. It can also run on battery.
This is related to engineering because, its robotic. Its a smart robot, in order for this to work it includes a system were it has been activated to do what it has to do. The commands were put in by  a computer. Wires are connected together to make it move as it was programmed to do.