Aqua lung oceanwings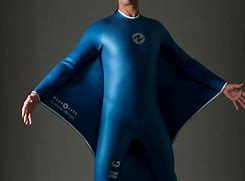 Aqualung ocean wings make an underwater flying experience.
This suit has wings(flaps) under the arms and in between the legs to create an experience similar to gliding/flying in the air. This suit needs engineering to be built because you would need to figure out the best material to make the suits and its limits.
https://www.bing.com/videos/search?q=aqua+lung+oceanwings&&view=detail&mid=D9B947A8FAC002394DA8D9B947A8FAC002394DA8&&FORM=VRDGAR
https://inhabitat.com/aqua-lung-ocean-wings-is-a-wetsuit-that-lets-you-fly-underwater/