CleverPet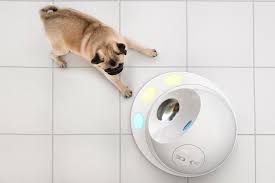 Do you have a dog? Do you need to leave your dog at home alone often? Does your get bored when no one is around? Are you afraid that your dog will cause troubles when no one is watching? If you said yes to these questions, CleverPet is the perfect item for you! If you are worried about relying on a machine to feed your dog, no worries! You can keep track of your dog's process through its app. CleverPet is a tool for the dogs to play with. It provides them with 12 automatic challenges. It keeps the dogs busy when they are home alone. When the dogs get comfortable with this device, they will be interested and wander around on the touchpads. When they touch the buttons, they will be able to play with CleverPet. Then, they the device will turn on and show lights for the dogs to touch. You can choose schedule, design gameplay, review data, and manage food supplies. You can also adjust the games to any dog's skill level. The games are released for free, and on average, dogs play between 50-500 rounds each day.
Link to the Original Article: https://clever.pet/pages/product
CleverPet relates to engineering and the world. This device required the process of engineering and the fields of math and science. It also relates to the world, since many households own dogs. This tool will especially be useful for those who need to leave their dogs at home alone. This object will be commonly used in the future.
Video for More Information: