DIY Skee Ball Machine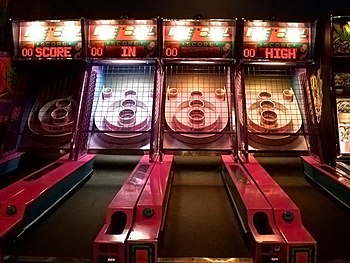 Skee Ball machines are a very well-liked and popular arcade game. It was created 1909 by a Princeton University alumni Jonathan Dickinson Este in Philadelphia. Although the game is played primarily in arcades, mini-golf courses, and amusement parks, it can be created right in the comfort of your own home. Using technology and a few other elements, this team of colleagues create their very own skee ball machine. This website shows one group's methods and how they constructed it.
Using an open source computer hardware, Arduino, and Processing to create a way for the machine to keep score. They created the wood pieces separately then, after attaching the digital sensors, screwed them together. Then the group decorated the machine with lighting and different colors of paint.
http://www.instructables.com/id/DIY-Skee-Ball-Machine/
This relates to the engineering world because the group that created the machine went the through the engineering process and planned, designed, and created it. As a team they cooperated and worked together to construct the skee ball machine.