Acer Predator Gaming Laptop.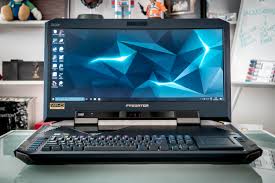 The Acer is one of the biggest and the best gaming laptop on the market.  It consumes so much power that it needs two power cables to run.  It weighs 19 pounds. It is an amazing computer that can run any game but it is very pricey.  Its is $8,999 US dollars. Its the first laptop with a curved screen.  You also have the ability to flip a mouse pad to a calculator. Here is an article to go read more about this amazing computer.
https://www.cnet.com/products/acer-predator-21x/preview/
This is related to engineering because they have to build the laptop.  They also had to find a way to make the screen curve.