Military Lazer Weapons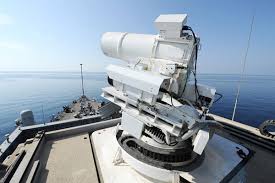 Lazers, lazers, and more lazers. The U.S. Military has that mindset… well, a portion of them.
Marine Engineers have delevoped lazers some decades ago. It was mostly a beam but the military found a way to turn it into something that won't just simply blind you.
Behold:
The military has attached lazers to drones and a couple of navy ships to test them. Sadly, the lazers do not soot as they do in movies.
Futbermore, and according to https://www.google.com/amp/s/phys.org/news/2017-04-laser-weapons-edge-military.amp#ampshare=https://phys.org/news/2017-04-laser-weapons-edge-military.html, the reason that – that portion of the military hasn't gone all 'lets lazer him, him, her, and why him" is becuase of the good'ol U.S. Government. Are they scared that the military will use the technology to do that? Most likely, I would too.
If the government does deploy lazers into the battlefield, then this will help the marine engineers take a step forward to customize the tech into something more advance. Hopefully to shoot meteors… go NASA..
As of now: