Floating Solar Panel Farms
Large scale floating solar power farms of the future
Sang Dajie, a Chinese coal miner knew that his job was too dangerous and unpredictable. Now, he works as an electrician at the world's largest solar power farm on top of a collapsed and flooded coal mine. The aray of 166,000 panels can produce up to 2.6 gigawatts of clean energy, enough to power a large town. This is just one example of a floating solar panel farm in China and there are many more across the world.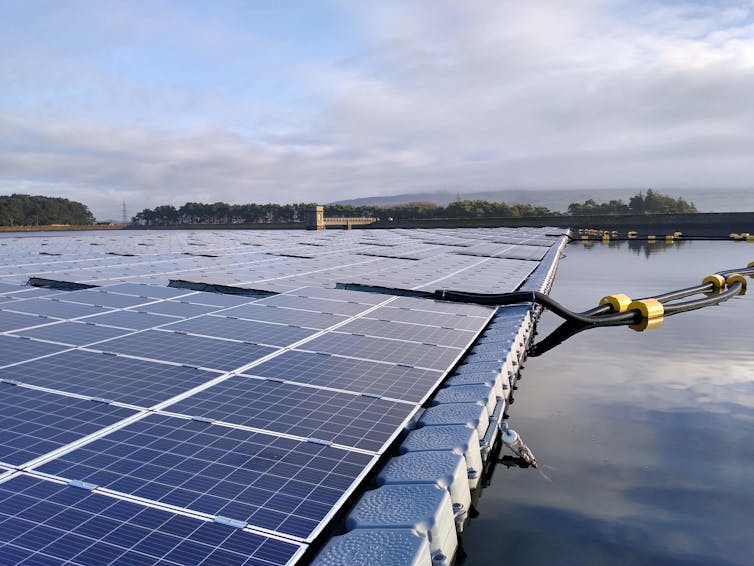 Credit: A floating solar farm generating electricity for a water treatment works at a reservoir in north-west England. Giles Exley, Author provided
Pros
Floats On Water Instead Of Land
Traditional solar power farms on land take up a lot of space that could be used for many other things like farming/garden or wildlife preservation.
Helps The Environment
Floating solar panels get passive cooling from the water underneath, making active cooling unnecessary. This heightens the efficiency of the panels because of the lower temperatures it is exposed to. They also reduce evaporation and lower algae blooms, which can cause health complications. On top of all of this, the floating panels reduce carbon emissions because of the clean energy it creates.
Cons
Expensive To Install
Unlike solar panels on land, you need floatation devices to keep the panels floating on the water. This increases the price of floating solar panel farms on top of this new technology.
Not For Everyone
Most floating solar panels are large scale so they can power large communities, companies, and utility companies
RELATED STORIES:
https://www.reuters.com/business/energy/singapore-unveils-one-worlds-biggest-floating-solar-panel-farms-2021-07-14/
https://theconversation.com/floating-solar-farms-could-cool-down-lakes-threatened-by-climate-change-157987